On December 3rd, Electrophysiologist from First Coast Heart and Vascular, Dr. Neil K. Sanghvi, spoke at Flagler Hospital regarding AFib and the Watchman procedure.
WATCHMAN is a one-time, minimally invasive procedure for people with atrial fibrillation not caused by a heart valve problem (also known as non-valvuar AFib) who need an alternative to blood thinners.
Non-valvular Afib can mean a lifetime of blood thinners. It can also mean a lifetime of worry about issues like bleeds and falls. More than 100,000 people have left blood thinners behind with WATCHMAN.
How WATCHMAN Works
To understand how WATCHMAN works, it helps to know more about the connection between atrial fibrillation and stroke.
Atrial fibrillation, or AFib, affects your heart's ability to pump blood normally. This can cause blood to pool in an area of the heart called the left atrial appendage, or LAA. There, blood cells can stick together and form a clot. When a blood clot escapes from the LAA and travels to another part of the body, it can cut off the blood supply to the brain, causing a stroke.1,2
In people with AFib not caused by a heart valve problem, more than 90% of stroke-causing clots that come from the heart are formed in the LAA.1 That's why closing off this part of the heart is an effective way to reduce stroke risk.
The WATCHMAN Implant fits right into your LAA. It's designed to permanently close it off and keep those blood clots from escaping. WATCHMAN is about the size of a quarter and made from very light and compact materials commonly used in many other medical implants.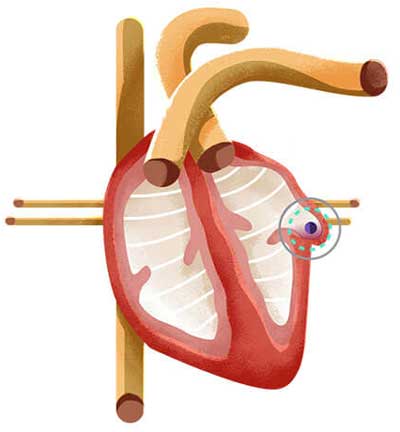 Science always looks for ways to make effective treatments even better. WATCHMAN is no exception. The WATCHMAN FLX design is an advancement that enables the implant to fit a greater number of patients, giving more people than ever a safe, effective alternative to blood thinners should they need one.
In a clinical trial, 96% of people were able to stop taking blood thinners just 45 days after the WATCHMAN procedure.3
Visit: https://www.watchman.com/en-us/how-watchman-device-works.html to learn more about the WATCHMAN procedure.
To learn more about Dr. Neil K. Sanghvi, please visit: https://www.firstcoastheart.com/physicians/neil-k-sanghvi-md/